It is not uncommon for personal injury victims to feel helpless. There is often a stigma attached to those who file personal injury claims and who seek compensation for injuries and damages. At Kelly and Castagna, our injury attorneys know that what happened to you was not your fault. We know that your injuries are legitimate and that you deserve a fair outcome for your case. And we believe that you're entitled to care and compassion throughout the legal process.
Our legal team has successfully represented victims of personal injury and will work tirelessly to ensure that you are taken care of. We will examine your case and provide you with an honest assessment of the best path forward. If you or a loved one have been injured due to someone else's misconduct or negligence, contact us today for a consultation at 309-820-0600.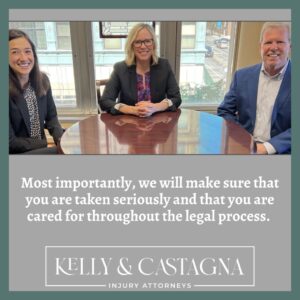 Our Practice Areas
The injury attorneys at Kelly & Castagna have developed a thorough understanding of the complexities of medical conditions that occur as a result of a variety of accidents. Whether you have been involved in a car accident, slip and fall accident, trucking accident, or have suffered due to medical malpractice, nursing home abuse, or any other personal injury issue, we are devoted to assisting you or your injured loved one.
We want to make sure that you are fully compensated for injuries or damages you have suffered so you can move forward with your life. This has likely been a traumatic event for you and we want to make sure that you don't experience any additional suffering.

Meet the Injury Attorneys at Kelly and Castagna
For over 40 years, the attorneys at our firm have been protecting those who have suffered from the devastating effects of a personal injury accident. We have been devoted to assisting our clients and their families recover damages for their injuries or even for a loved one's death. We are here to guide people through the legal process and make sure our clients get the legal help and support that they need while being treated with the dignity and respect that they deserve.
Our knowledge of the law, our fierce advocacy, and our ability to develop and maintain relationships with our clients has helped us achieve successful resolutions for a variety of cases. At Kelly & Castagna, our injury attorneys will help you recover medical costs, lost income, and compensation for pain and suffering. Most importantly, we will make sure that you are taken seriously and that you are cared for throughout the legal process.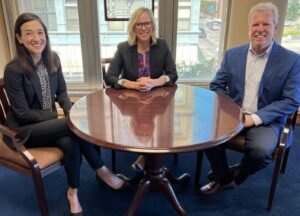 See What Our Clients Are Saying