Products Liability Lawyers
Products liability is a type of legal action that allows people to hold manufacturers, distributors, and sellers of products responsible for injuries they suffer because of defects in those products. At Kelly & Castagna, our products liability lawyers work to protect our clients and help them obtain compensation for their injuries and damages.
Products can include anything that can be purchased and used by a consumer, including electronics, appliances, and medication. If you're injured by a defective product, you may have the right to seek compensation from one or more parties that played a role in putting the product into your hands.
The law requires manufacturers and retailers to sell products that are reasonably safe for their intended use. When a designer, manufacturer, or retailer fails to meet this standard, they can be held liable for any injuries caused by its product. In other words, if you are injured because of negligence, you may be able to recover compensation from the responsible party under Illinois law.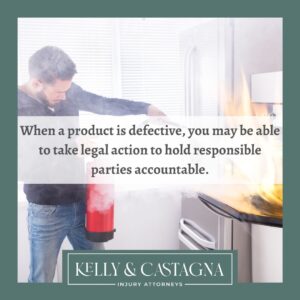 Common products liability issues
Some common products liability issues include:
A defective design. This is when a product was designed in such a way that it is likely to cause injury. For example, if you were injured by a knife with a blade that snapped off when the knife was used for its intended purpose, then your injury would be the result of a defective design because there was nothing wrong with how you used it but rather with how it was made.
A defective manufacturing process. In some cases, an individual part may be flawed or poorly manufactured during assembly of an otherwise safe product. For example, if the manufacturer of a crib did not have the holes drilled to align properly and it fell apart, they may be held liable.
There was a failure to warn about potential harm. If a medicine had severe side effects that were not listed, this could be considered a products liability issue.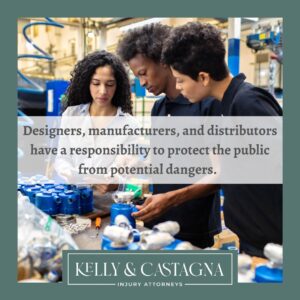 There are many issues and products covering a broad range of categories. Some of the most common products are: defective medical devices, machinery and tools, medicines, food, tobacco, toxic chemicals, toys, and household products and appliances.
Our products liability lawyers at Kelly & Castagna have a thorough understanding of the legal issues related to products liability claims. We also have extensive knowledge about your rights and how to protect them. Will will work to make sure you are compensated for your injuries and that businesses do not put their profits above the safety of the public.
When you may have a claim
You should consult with our products liability lawyers if you were injured by a defective product and believe you have a personal injury claim. It is also important to consult with your doctor and keep all documentation regarding treatment, medications, and ongoing treatment you receive. If possible, take photos of the product and the injuries you have sustained.
You may have a claim if the product was unreasonably dangerous or if the manufacturer knew about the defect but failed to warn consumers about it or fix it before selling the product. Companies have a legal and ethical obligation to ensure that the products they make will not harm the people who purchase them or use them. When an accident or injury occurs due to rushing a product to market, cutting corners, or ignoring safety concerns, someone needs to be held accountable and the public needs to be protected.
Contact our products liability lawyers for a consultation
If you have been injured by a faulty or unsafe product, you may be able to sue the designer, manufacturer, or retailer of that product. In order to file this type of lawsuit, it must be proven that:
You were injured by using a defective product;
The defect was caused by negligence on behalf of the manufacturer; and
Your injuries were significant enough that they could not have been prevented via adequate warnings or instructions about how to use said item safely
If you have been injured by a defective product, our products liability lawyers can help you recover damages for your injuries. We understand that this experience can be difficult and stressful, but we will work with you to ensure that your rights are protected. Call us today for a consultation at 309-820-0600.