Slip and Fall Accidents Lawyers
A slip and fall accident can be a painful experience. It can ca/rowuse injury, inconvenience, and even financial hardship. If you have been in an accident and believe the property owner is responsible, our slip and fall accidents lawyers can help. At Kelly & Castagna, our attorneys have the knowledge, resources, and compassion to help you get compensation for your injuries. Contact us today for a consultation at 309-820-0600.
Causes of slip and fall accidents
Slip and fall accidents are common and can happen at any time throughout the year. They can happen in stores or private residences with tile or other slippery surfaces that have been cleaned with various chemicals or water. They can occur when surfaces are wet from rain, snowfall, or ice. A person can slip and fall when they are on a property with hazards. These hazards can be the result of negligence or carelessness.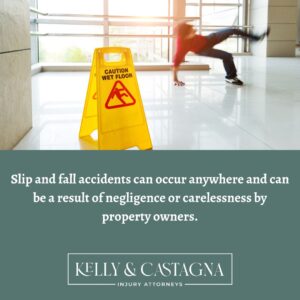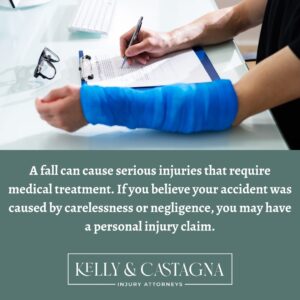 Some common hazards are:
Broken or missing handrails in stairways
Cords that are across walkways
Floors that have been recently mopped or waxed
Loose floorboards, rugs, or mats
Poor lighting in hallways or other areas where it may be difficult to see
Spilled liquids that are left and not cleaned in a timely manner
Trash or debris on floors
Uneven surface
Unsecured items, such as boxes stacked too high
There are a lot of things that can cause slip and fall accidents and someone can be seriously injured from a bad fall. If you have been injured, make sure to see a doctor and get any medical treatment that you need. Then, contact our slip and fall accidents lawyers to help you recover compensation.
A fall can cause a serious injury
A fall can cause serious injuries that require medical treatment. If they are very severe they may also require surgery, ongoing care, and time off of work. Some common types of injuries from slip and fall accidents are:
Broken Bones
Back Injuries
Cuts and Bruises
Chronic Pain
Concussions
Knee Injuries
Soft tissue injuries
Sprains
Spine and Nerve Damage
Traumatic Brain Injury
While slip and fall injuries vary from person to person depending on the circumstances that led up to the accident, many victims suffer similar fall injury symptoms. Whatever type of injury you have suffered, Kelly & Castagna can help you get compensated. Contact our slip and fall accidents lawyers today for a consultation.
The responsibility of property owners
The law is clear on the responsibility of property owners to keep their premises safe for guests. The law does not require property owners to create a completely hazard-free environment, but it does require them to take measures to prevent injuries from known hazards.
The good news is that most falls are completely preventable through simple maintenance procedures such as cleaning and repairing floors, changing light bulbs when they burn out, installing handrails for stairs, and keeping walkways free from hazards.
Slip and fall accidents can be serious and even fatal. These types of accidents happen all the time, so it's important to know what to do if you or a loved one is involved in one. When you consult with our slip and fall accidents lawyers, we will make sure you understand what your options are and what compensation you are entitled to.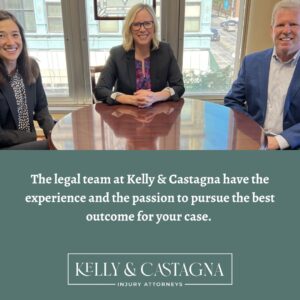 Contact our slip and fall accidents lawyers at Kelly & Castagna today
Although slip and fall accidents are preventable if property owners maintain a safe environment, they are still a common occurrence. If you have been injured in a slip and fall accident, you may be able to hold the responsible party liable for your injuries. The law imposes duties on property owners to keep their premises safe from dangerous conditions that could cause injury or death to others. If the owner fails to meet these obligations, he or she could be held liable for any resulting injuries. Contact the slip and fall accidents lawyers at Kelly & Castagna for a consultation.