Personal Injury Claims Lawyers
A lot is at stake when you are injured in an accident. Recovering compensation might mean the difference between getting the treatment you need to heal and experiencing permanent complications from your injuries. Our personal injury claims lawyers will work to ensure you don't have to shoulder the financial responsibility of your accident. Contact Kelly & Castagna today for a consultation at 309-820-0600.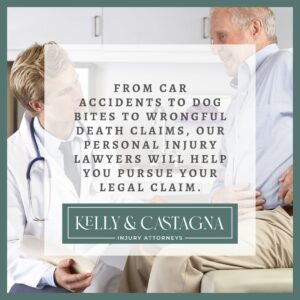 There are a variety of different accidents that can result in injuries that necessitate personal injury claims lawyers.
Bicycle Accidents
Birth Injuries
Brain Injuries
Burn Injuries
Car Accidents
Construction Site Injuries
Dog Bite Injuries
Elder / Nursing Home Abuse
Medical Malpractice / Therapist Abuse
Motorcycle Accidents
Paralysis / Spinal Cord Injuries
Pedestrian Accidents
Product Liability
Slip and Fall Accidents
Truck Accidents
Wrongful Death
If you have been injured, it can be difficult to know if your claim is strong enough to warrant the cost of hiring an attorney. That's why it's important to have experienced personal injury claims lawyers to evaluate your claim and determine the best path forward for you.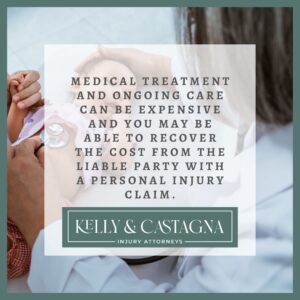 Damages that can be recovered in Illinois
Medical treatment can be expensive. If you are injured, you may need to miss work and pay for transportation to and from medical appointments. You may also have to pay for a babysitter if your child requires care while you are out of the house.
The cost of medical treatment can be significant, especially if the injury is serious or permanent. The law allows an injured person to recover these expenses from their insurance company or other responsible party through a personal injury claim lawsuit. When you need to file a claim, the first thing to do is contact experienced personal injury claims lawyers. The legal team at Kelly & Castagna will help you determine what damages are recoverable under Illinois law.
Damages can include pain and suffering, medical bills (past, present and future), lost wages (past, present and future) and the cost of future medical treatment and care. There may be other damages that apply to your case as well. For example, if someone has died because of their injuries, then there are additional types of compensation available for surviving family members or loved ones who were dependent on them for support.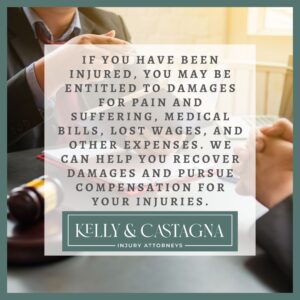 Contact our personal injury claims lawyers
A personal injury lawyer has experience with this type of litigation and will be able to guide you through the process from start to finish. A good attorney will be able to explain your rights as an injured party under Illinois law. They can help determine whether or not your case meets the legal standards for bringing suit against another party for damages incurred as a result of their negligence or misconduct.
Attorneys can identify any applicable insurance coverage that may apply to cover costs and be able to negotiate effectively with representatives for insurance companies. We will hold the wrongdoers accountable and achieve the best possible outcomes for our clients.
If you have been injured, you may be entitled to damages. You can recover damages for pain and suffering, medical bills, lost wages, and other expenses. We can help you recover damages and pursue compensation for your injuries.