Medical Malpractice Lawyers
Medical malpractice lawyers serve an important role in protecting the public. They work to hold negligent doctors and other healthcare providers accountable for their actions. At Kelly & Castagna, our attorneys will work tirelessly to ensure the party that harmed you or your loved one are held liable. We know that monetary compensation cannot make up for the physical and emotional damage that was done. However, it will be a step in making sure those types of errors are prevented in the future.
The basics of medical malpractice
Recent studies of medical errors have estimated errors may account for as many as 251,000 deaths annually in the United States (U.S)., making medical errors the third leading cause of death.
Medical malpractice is a legal claim that a doctor or other healthcare professional has been negligent in treating a patient. The term "negligent" means that the provider did not use reasonable care in providing treatment, diagnosing the problem, or communicating with you about your condition.
Proving medical malpractice can be difficult because it requires proof that there was an injury caused by substandard care on the part of your doctor or hospital staff. You must be able to show:
The standard of care was not met (e.g., your physician did not follow guidelines for treating your condition)
Your injury resulted directly from this lack of compliance with standards (e.g., if you had an infection after surgery because your surgeon didn't disinfect properly)
There was no other reasonable explanation for how your injuries occurred
If you believe that you have been harmed by medical negligence, then it is important to talk with experienced medical malpractice lawyers who can help you determine if there is enough evidence to support your claim. The legal team at Kelly & Castagna will evaluate your case and determine whether a mistake was made and what the best legal course of action will be.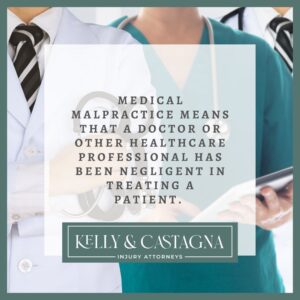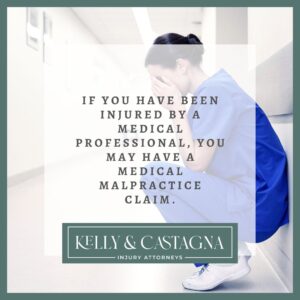 What to Do When You Have Been Injured by a Healthcare Provider
When you have been injured by the negligence of a healthcare provider, it's important to seek medical treatment immediately. Of course, you want to seek treatment from a new medical professional, so you have a second opinion. You should also save copies of all relevant medical records related to your injury.
If possible, report the incident immediately to the hospital or health facility where it occurred. They may be able to help identify areas where they could improve their practices in order to prevent similar incidents from occurring again in the future.
Once your medical needs are addressed, you need to hire an attorney. When choosing a personal injury lawyer, make sure to retain someone with experience handling similar cases. Medical malpractice lawyers with this type of experience know how to deal with insurance companies, risk management, and other personnel that may have been involved. The team at Kelly & Castagna has experience in this area and knows how to negotiate with or litigate against medical groups and insurance companies.
Contact our medical malpractice lawyers today
Medical malpractice lawyers can help you recover compensation for your injuries and get the compensation that you deserve. They help people who have been injured by the negligence of a healthcare provider. If you or someone you love has suffered from medical malpractice, it is crucial to consult with an experienced attorney as soon as possible. Our attorneys are here and will make sure you are fairly compensated for any injuries sustained.