Timothy Kelly | Personal Injury Attorney | Of Counsel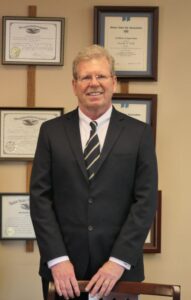 January 1, 2022, Timothy W. Kelly became Of Counsel for Kelly & Castagna to focus on spending more time with his family (especially his grandchildren!) and friends. He will continue to be a highly valued personal injury attorney and member of the Kelly & Castagna team.
Timothy W. Kelly graduated from the University of Dayton School of Law in 1978. In 1997 he was voted by his peers as one of the top three attorneys in McLean County.
He is a Martindale-Hubbell AV rated attorney (the highest rating available) devoting 100% of his practice to litigation. Concentrating his practice in personal injury and malpractice, he has obtained record verdicts in two downstate counties. He has been listed in Law & Leading Attorneys since 1996 and in 2002 was named one of the top 5% of attorneys in Illinois.
He has also been recognized in Chicago Magazine as an Illinois "Super Lawyer." He has published articles and books regarding trial practice, is a past member of the Board of Directors of the Illinois Institute of Continuing Legal Education, and served on the Board of Managers of the Illinois Trial Lawyers Association from 1992 to 2014. He is a past President of the McLean County Bar Association and the Illinois Bar Foundation.
University of Dayton School of Law, Dayton, Ohio, 1978 J.D., Doctor of Jurisprudence
University of Dayton, Dayton, Ohio, 1975 B.S., Bachelor of Science
Illinois Supreme Court – Appointed by the Chief Justice of the Supreme Court as the Chair of the Commission on Access to Justice in 2014
Illinois Bar Foundation, Board of Directors. Chair of the Fellows 2014-2015. 2nd Vice-President, 2016. 1st Vice-President, 2017. President, 2018.
McLean County Bar Association – President, 2015-2016
Fellows of the Bar Foundation – Chair of the Fellows, 2014-2015
Illinois State Bar Association: Elected Assembly Member, 1995 to 2000; Member Civil Practice & Procedure Section Council, 1992 to 2001, Vice Chair 1997-98, Chair 1998-99; Tort Law Section Council, 1995 to 2010, Chair 2008-2009; Allerton House Steering Committee, 1994, 1996, 1998, 2000-2002; Special Committee on Judicial Discipline, 1997-98; Task Force on the Allocation of Judges in Illinois, 1998-00. Special Committee on ISBA Facilities, 2000.
American Trial Lawyers Association
McLean County Inns of Court
Illinois Institute of Continuing Legal Education (IICLE), Board of Directors, 2000 to 2007
Illinois Trial Lawyers Association: Board of Managers 1992 – 2014; Continuing Legal Education Committee, 1995-96; Executive Committee, 1996, 1997; Chairman, Insurance Law Committee, 1996-1998; Chairman, Product Liability and Insurance Law Committee, 1998-2000. Seminar Planning Chairman, 2002.
Illinois, 1978
U.S. Court of Appeals 7th Circuit, 1993
U.S. District Court Central District of Illinois, 1979
U.S. District Court Eastern District of Wisconsin, 1990
U.S. Federal Court, 1979
U.S. District Court Northern District of Illinois, 1979
U.S. District Court Southern District of Illinois, 1979
U.S. Court of Federal Claims, 1998
U.S. Supreme Court, 1998
Voted by peers as one of the "Top Three Attorneys in McLean County," Business to Business Magazine, 1997
Listed in Law & Leading Attorneys for Illinois, 1996-Present
Named as an Illinois "Super Lawyer" by Chicago Magazine
Marquis, Who's Who in American Law, 2000 – Present
Martindale-Hubbell, rating of AV (highest rating available) 1993 – Present
IICLE Author of the Year – Publications Department, 2008
Named by the National Trial Lawyers Association as a "Top 100 Trial Lawyers" for 2013, 2014, 2015, 2016, 2017, 2018
Proving and Disproving Damages, IICLE, Chicago, Illinois, February 11, 2010
Laying Foundations, Chicago, Illinois, 2011
Laying Foundations, Springfield, Illinois 2012
Illinois Civil Litigation, Trial Technique, Practice and Procedure, Direct Examination, Springfield, Illinois, 1989
Proof of Damages in Personal Injury and Wrongful Death Litigation, How to Present Damage Evidence Where There Is Little or No Residual Disabiilty, IICLE, 1989
Negotiating and Settling Personal Injury Cases, Initial Considerations, IICLE, Chicago, Illinois, 1990
Hot Tips on Handling & Avoiding Common Settlement and Trial problems, The Mechanics of Preparing Exhibits, ISBA Law Ed. Series, Bloomington, Illinois, 1991
How to Present and Defend a Personal Injury Case, Proving Future Loss of Income, ISBA Law Ed. Series, Bloomington, Illinois, 1991
Products Liability: In-Depth Study of Litigation Involving Products, ISBA Law Ed. Series, 1992
How to Limit Hospital Liability, a Plaintiff's Perspective, Illinois Society of Healthcare Risk Management Annual Meeting, 1992
Hot Tips-Proven and Winning Ways in Personal Injury Cases, ISBA Law Ed. Series, 1993
Tort Reform Day to Day Issues, ISBA Law Ed Series, Bloomington, Illinois, 1994
How to Present Non Economic Damage Testimony, ITLA Seminar, February 4, 1995
Proving and Disproving Damages, IICLE, Collinsville, Illinois, February 23, 1995
Proving and Disproving Damages, IICLE, Springfield, Illinois, February 24, 1995
Civil Practice Update, ISBA, St. Louis, Missouri, May 5, 1995
Anatomy of Pretrial Preparation, IBA Law Ed. Series, Bloomington, Illinois, November 20, 1995
Pretrial Techniques and Strategies, ITLA Seminar, February 3, 1996
Trial Techniques, ISBA, Bloomington, Illinois, November 11, 1996
Tort, Insurance and Civil Practice Update, ISBA, Chicago, Illinois, December 13, 1996
Laying Foundations for Introducing Evidence, IICLE, Chicago, Illinois, February 7, 1997
General Practice Update Program, ISBA Tort Update, Bloomington, Illinois, May 2, 1997
Civil Practice Update, ISBA, Bloomington, Illinois, May 23, 1997
Evidence, ITLA Update and Review Seminar, Chicago, Illinois, September 6, 1997
Laying Foundations for Introducing Evidence, IICLE, Springfield, Illinois, September 26, 1997
Tax Consequences of Settlement, ISBA Settlment Seminar, Chicago, Illinois, October 3, 1997
Laying Foundations for Introducing Evidence, IICLE, Chicago, Illinios, October 15, 1997
Tax Consequences of Settlement, ISBA Settlement Seminar, Bloomington, Illinois, October 17, 1997
Litigating Personal Injury Cases, Review of Recent Decisions, ISBA, Collinsville, Illinois, February 28, 1998
Civil Practice update Seminar, ISBA, Chicago, Illinois, June 3, 1998
How to Protect Yourself Against Malpractice and Ethical Complaints, ISBA Mutual Insurance Company Seminar, Bloomington, Illinois, September 24, 1998
Civil Practice Update Seminar, ISBA, Collinsville, Illinois, March 26, 1999
Civil Practice update Seminar, ISBA, Peoria, Illinois, May 7, 1999
Evidence Seminar, ITLA, Chicago, May 8, 1999
Mandatory Arbitration, A Case Law update, ISBA, Lake Geneva, Wisconsin, June 26, 1999
Personal Injury Law; A Plaintiff's Perspective, Central Illinois Paralegal Association, Bloomington, Illinois, September 10, 1999
Product Design Defect in Automobile Cases, IICLE, Bloomington, Illinois, October 8, 1999
Municipal Liability, ISBA Tort Law Seminar, Bloomington, Illinois, October 11, 1999
Civil Update of Recent Case Law in Mandatory Arbitration Cases, ISBA, Chicago, Illinois, October 15, 1999
Automobile Accident Cases, ITLA, Peoria, Illinois, February 5, 2000
Product Liability Seminar, ITLA, Chicago, Illinois, February 21, 2000
Evidence Seminar, IICLE, Springfield, Illinois, September 19, 2000
Evidence Seminar, IICLE, Chicago, Illinois, October 4, 2000
Damages in Personal Injury Cases, IICLE, Springfield, Illinois, November 30, 2000
Bridge the Gap Program, Springfield and Chicago, Illinois, January 18, 2001
How to Present Demonstrative Evidence, Champaign, Illinois, February 3, 2001
How to Depose a Medical Expert, Springfield, Illinois, November 15, 2001
Liens on Case Proceeds, ISBA, May 9, 2002
Medical Malpractice Seminar, ITLA, Chicago, Illinois, December 7, 2002
Tort Law Update, ISBA, Chicago, Illinois December 14, 2002
Shotgun Seminar, ITLA, Springfield, Illinois, February 8, 2003
Jury Selection Seminar, IICLE, Peoria, Illinois, April 23, 2003
Automobile Cases A to Z, ISBA, Chicago, Illinois, May 22, 2003
Automobile Litigation Update, ITLA, Chicago, Illinois September 13, 2003
Use of Medical Experts, ITLA, Springfield, Illinois, February 7, 2004
Vehicular Accidents, ISBA, Chicago, Illinois May 10, 2004
UM/UIM Insurance Coverage, ITLA, Springfield, Illinois, February 5, 2005
Law Ed Program, Civil Practice Update: Rule 216, ISBA, Bloomington, Illinois, May 6, 2005
Seminar "Government Tort Liability," ITLA, Springfield, Illinois, March 4, 2006
Civil Procedure Seminar, ISBA, Bloomington, Illinois, May 12, 2006
Laying Foundations for Introducing Evidence, IICLE, Chicago, Illinois, July 14, 2006
Laying Foundations for Introducing Evidence, IICLE, Springfield, Illinois, July 28, 2006
Product Liability Seminar, Spoliation of Evidence, ITLA, Chicago, Illinois, February 19, 2007
Civil Practice Update Seminar, Rule 16, ISBA, Bloomington, Illinois, May 18, 2007
Handling Trucking Cases, IICLE, Bloomington, Illinois, October 8, 2007
Proving and Disproving Damages Update, IICLE, Chicago, Illinois, November 12, 2007
Automobile Cases, IICLE, Bloomington, Illinois, September17, 2008
Laying Foundations for the Introduction of Evidence, IICLE, Bloomington, Illinois, October 15, 2008
Laying Foundations for the Introduction of Evidence, IICLE, Chicago, Illinois, October 23, 2008
Assistant Professor, Political Science, Illinois State University, 1980-1983
Staff Attorney, Prairie State Legal Services, 1978-1981
Assistant Public Defender, McLean County, 1981-1983
Associate in the Office of Jerome Mirza & Associates, 1983-1989
IICLE Faculty Member
ISBA Law-ed Series Faculty Member
ITLA Faculty Member
Author: Laying Foundations for Introducing Evidence, IICLE, 1991, revised, 1996; 2000, 2005; Proving Damages in Personal Injury Cases, IICLE 1994. Review of Recent Cases, Trial Briefs, ISBA Vol. 34, 1989; Review of Recent Cases, Tort Trends, ISBA Vol. 31, 1995; Affirmation of the Common Fund Doctrine, Trial Briefs, ISBA Vol. 42, 1996; IPI 5.01 & Expert Witnesses, Tort Trends, ISBA Vol. 4, 1997; Special Duty Exception to Local Governmental Tort Immunity, Trial Briefs, ISBA Vol. 44, 1999. Mandatory Arbitration Case Review, Illinois Bar Journal, March 2000. Illinois Pretrial Practice, James Publishing Co., 2002. Co-Edition, Illinois Causes of Action, 2006, 2008.
Certified as McLean County Civil Case Mediator, 1996
Certified as a McLean County Civil Case Arbitrator, 1997
Books & Chapters
Illinois Civil Pre-Trial Practice, James Publishing Company, (co-author of a two-volume manual on civil practice before trial, published November 2002)
Illinois Causes of Action, Illinois Institute of Continuing Legal Education, 2002 (co-editor of a two-volume treatise)
Laying Foundations for Introducing Evidence, Illinois Institute of Continuing Legal Education, 1991, revised, 1996 and 2000
Proving and Disproving Damages in Personal Injury Cases: Damages in a Wrongful Death Case: Plaintiff's Perspective, Illinois Institute of Continuing Legal Education, 1993
Articles
Review of Recent Cases, Tort Trends, Illinois State Bar Association, Vol. 31, No. 1, October 1995
The Illinois Supreme Court Reaffirms the Common Fund Doctrine, Trial Briefs, Illinois State Bar Association, Vol. 42, No. 4, November 1996
IPI No. 5.01 and Expert Witnesses, Tort Trends, Illinois State Bar Association, Vol. 32, No. 4, February 1997
Real Estate Closings, Business to Business Magazine, September 1998
The Demise of the Special Duty Exception to Local Governmental Tort Immunity, Trial Briefs, ISBA, Vol. 44 No. 5, June 1999
Mandatory Arbitration: A Review of the Recent Cases, Illinois Bar Journal, March 2000
Substitution of Judge as of Right; Tort Trends, Illinois State Bar Association, Vol. 41, No. 3, March 2006