It may seem impossible to pick up the pieces and carry on with your life after such a tragedy but that does not mean that you do not deserve justice for what happened. If you want to find experienced wrongful death lawyers who will fight for the justice your family deserves after suffering such a tragic loss, contact Kelly & Castagna for a consultation at 309-820-0600. The loss of a loved one is always hard, but our team will handle the legal process so you can focus on yourself and your family during this difficult time.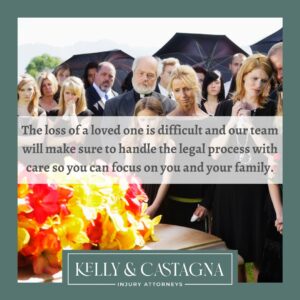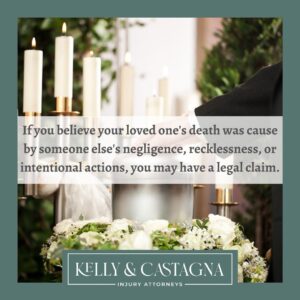 What is considered wrongful death
The term "wrongful death" refers to any death caused by someone else's negligence, recklessness, or intentional actions, even if those actions were not directed at you specifically. You may also be able to sue for emotional distress if you witnessed or heard about an accident involving your loved one.
A wrongful death claim is a civil lawsuit that's brought by the personal representative of a deceased person's estate. The goal can be to recover damages for your loss, which can include medical expenses and funeral costs.
Loss of love and companionship can be another reason to file a legal claim. If your loved one was the primary caregiver for you then this can be considered as an element in determining compensation. In addition, if the deceased person was providing all or most of the income for their family, this may be another factor taken into consideration when determining damages awarded under Illinois law. In addition to providing financial security, they also may have been responsible for paying bills such as mortgage payments and car loans, which leaves those responsibilities up in the air after death occurs unexpectedly without any warning signs beforehand.
How long you have to file a claim
You have two years from the date of death to file a wrongful death claim in Illinois. If the deceased was a minor, you can extend that deadline by an additional year. This means that if your loved one died as a minor, you have until three full years after their 18th birthday to file suit against those responsible for their death.
If your loved one was killed as a result of "violent intentional conflict" then you have until five full years after their passing before filing suit against them becomes too late. Also, a wrongful death claim may be brought one year after the criminal case is completed if the person who caused the death was charged with any of the following crimes in relation to the death: first- or second-degree murder, intentional homicide or voluntary manslaughter of an unborn child, involuntary manslaughter or reckless homicide, involuntary manslaughter or reckless homicide of an unborn child, or drug-induced homicide.
It is important to hire experienced wrongful death lawyers, like those at Kelly & Castagna for a wrongful death case. We will help grieving families make sure they are treated fairly and compensated for their loss. Contact us today for a consultation.
Recoverable damages
The personal representative of the estate can recover damages for medical expenses for treatment prior to their death. They may also recover compensation for funeral and burial costs including: embalming fees, casket purchase, cremation costs, and the plot purchase.
Lost wages that would have been earned by the deceased if he or she had lived until retirement age (or beyond) may also be recovered. For example, if your loved one was 46 years old with 20 years left until retirement age, you can recover lost or future earnings. The amount will differ depending on your circumstances so it's best to consult with an experienced wrongful death lawyer about what damages are appropriate for your situation before filing suit against any parties responsible for causing harm or injury leading up to death.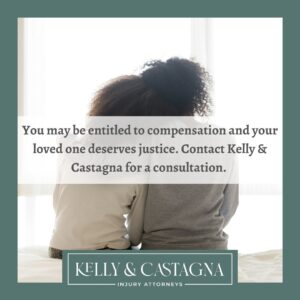 Hiring wrongful death lawyers
At Kelly & Castagna, our wrongful death lawyers give personal attention to families that are facing the future without a loved one. From the time you ask for our help until the settlement, you will have an experienced attorney who is fully involved in your wrongful death case.
The sooner that you begin looking for legal representation after losing someone close to you in an accident or other tragedy such as medical malpractice, the better off your family will be during this difficult time. You do not want to have to haggle with insurance companies or worry about determining on your own, what happened. Contact our team for a consultation today.