Car Accident Lawyer Normal Illinois | Car Accident Injuries
Injuries you sustained after a car accident may affect you for the rest of your life. You deserve just compensation and our car accident lawyer Normal Illinois can help you. Our legal team has successfully represented victims of personal injury and will work tirelessly to ensure that you are taken care of. Call today at 309-820-0600 for a free consultation.
Auto accidents can cause all sorts of bodily damage and it is critical that you understand what these injuries are and how they affect your health. We will make sure the responsible party is held accountable by paying fair compensation, so that you get all the help necessary after being hurt in an auto accident attributed to them.
Neck Injuries
Neck injuries are one of the most common types of injuries that result from auto accidents. The neck is made up of many different bones and muscles, which can become strained or torn if you're in an accident. In some cases, these injuries may require surgery or other medical treatment to heal properly. Those liable for the accident, should also be liable for those medical bills and ongoing treatment. Our car accident lawyer Normal Illinois is here for you.
Injuries to the cervical spine (which includes seven vertebrae located in your neck) can include painful stiff muscles in your shoulders, back and chest area, headaches, dizziness, and loss of balance. Neck injuries typically require long term care and physical therapy. Make sure to keep all your medical records and receipts for medications and ongoing treatment so you can be fairly compensated.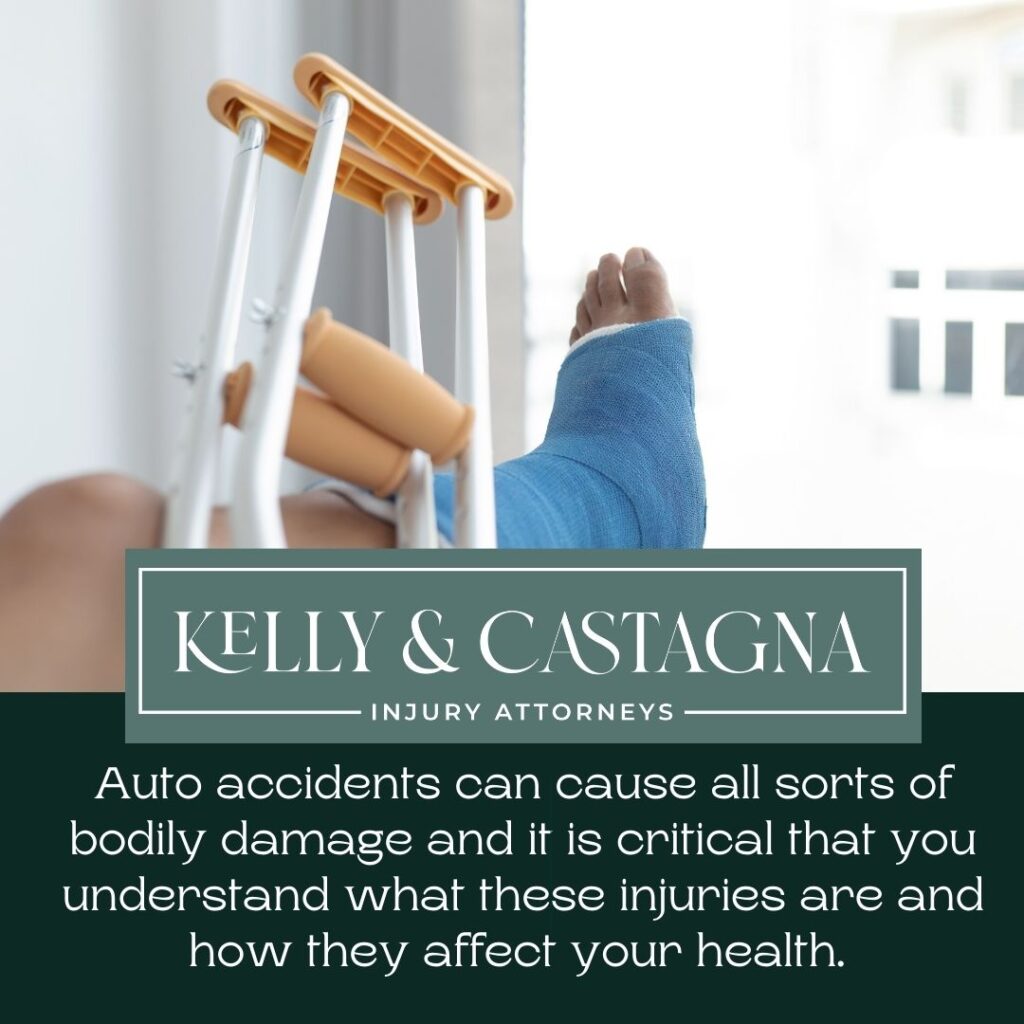 Whiplash
Whiplash is another painful injury that can be caused by car accidents. These injuries occur when the neck is forced to move quickly forward, backward, or sideways. The sudden movement stretches and tears ligaments in your spine, which support your skull as well as joints between each vertebrae (bones of your spine).
Symptoms include neck pain, shoulder pain, headaches, earache, dizziness, loss of balance, and ringing in ears (tinnitus). If you've experienced these symptoms after a car accident, you may be able to pursue a personal injury claim.
Back Injury
Back injuries also result from car accidents. They can range from mild to severe and they can have long-term effects on your life if not properly treated. Back pain is usually caused by damaged or strained muscles that support your spine, as well as ligaments and joints around the spine.
Physical therapy might be recommended for people with back pain following an auto accident injury. Physical therapists will help patients build strength in their core muscles so they can move more easily without straining their backs while also helping them manage stress better through breathing exercises and mindfulness techniques.
When medication doesn't provide enough relief from chronic lower back pain after an auto accident injury, surgery may be necessary to remove damaged discs or nerves from around the spinal column. Whatever treatment and ongoing care you have been required to receive, you deserve compensation. Our car accident lawyer Normal Illinois will provide an honest assessment of your case and determine what legal recourse you can pursue. 
Other Injuries
Arm and hand injuries may also be the result of an auto accident. Broken bones, strains, sprains, tendonitis, and nerve damage can all occur in the arms, hands, or wrists. This can occur when the driver is gripping the wheel to brace themselves or passengers try to stabilize themselves during the crash.
Auto accidents also lead to rib fractures. Ribs protect the lungs and heart, so when they're fractured, it can be very painful to breathe or move around. Whatever type of injury you have suffered, our car accident lawyer Normal Illinois can help you get compensation.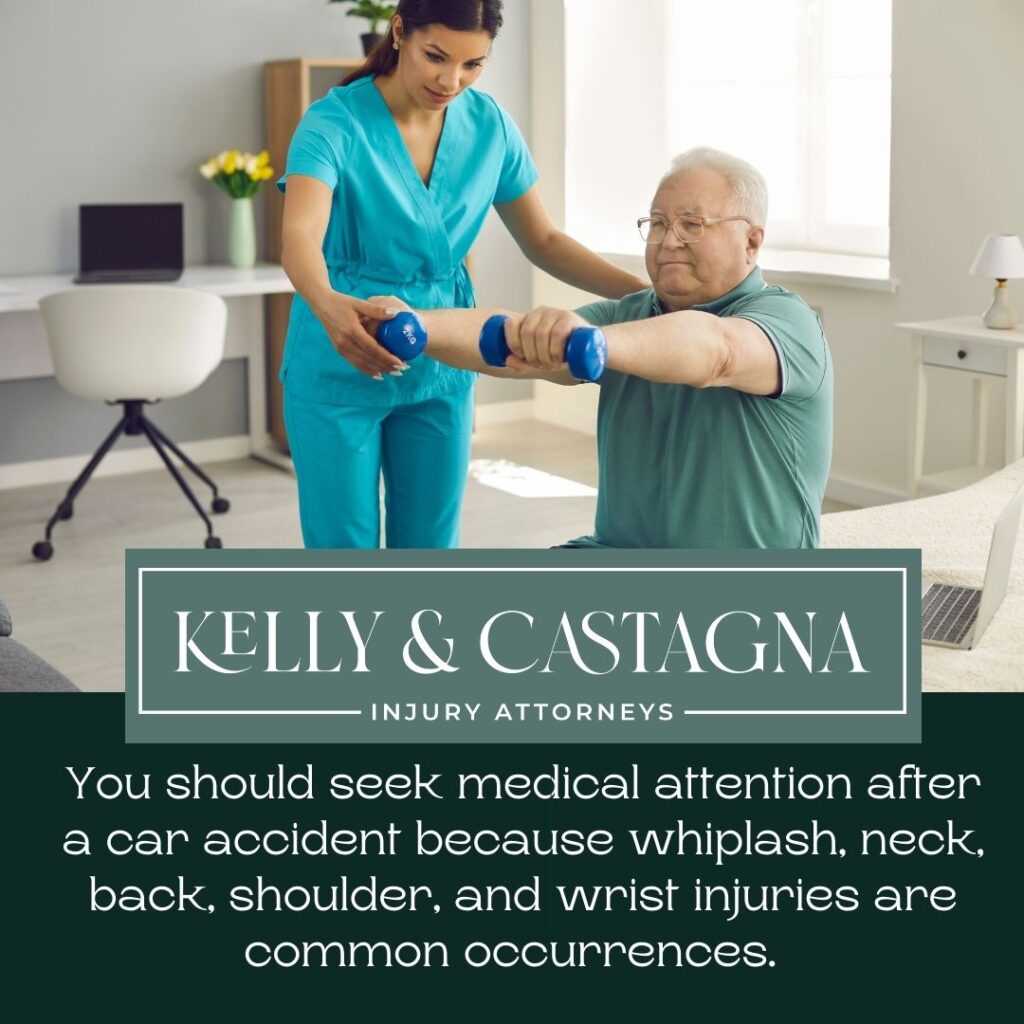 Shoulder injuries are also prevalent in auto accidents. The shoulder joint is a ball-and-socket joint, which means that it can be easily dislocated or fractured. Shoulder injuries may be difficult to diagnose because symptoms vary widely and can be subtle at first, so it's important to seek medical attention immediately if you think you've been injured. Aside from initial medical attention, ongoing physical therapy is also typical for shoulder injuries. 
Contact our car accident lawyer Normal Illinois to pursue justice
If you've been injured in an auto accident, you may be entitled to compensation for your medical bills and other expenses. Contact a qualified car accident lawyer Normal Illinois today to learn more about your rights and options.
In the end, it's important to know that you're not alone and with Kelly & Castagna, you will have a legal team that has the experience and compassion to help you move forward.