Car Accident Lawyers Normal Illinois | Car accident settlements
According to the Insurance Information Institute, roughly 1.9 million Americans were injured in auto accidents in 2018 alone. Car accidents can cause serious injuries that require medical attention and ongoing care. If you've been involved in an accident and plan on suing for damages, experienced car accident lawyers Normal Illinois can help you get fair compensation for your injuries.
To determine how much money you'll receive as part of a settlement with the other driver's insurance company, there are several things that need to be taken into consideration. The attorneys at Kelly & Castagna can assess your claim and pursue compensation for you. Call today for a free consultation at 309-820-0600.
Damages you can seek
Whatever damages you have incurred, you will need experienced car accident lawyers Normal Illinois to fight for you. There are a variety of different things you can pursue compensation for, so it is important that you have documentation of medical expenses and treatment that you have incurred.
Medical expenses: Your health care providers might have billed you for treatment related to the accident. Those costs could include doctor visits, surgery, or prescription medications. The other driver's insurance company should pay these expenses if they caused them by driving negligently or recklessly.
Lost wages: If your injuries prevented you from working while recovering from treatment, then this is also something that should be compensated by the at-fault party's insurance company if their careless driving led to those losses in income.
Pain and suffering: Emotional distress due to post-traumatic stress disorder (PTSD), depression, or anxiety may be able to be compensated if reckless driving behaviors or negligence cause the accident.
If you were injured in a car accident and plan to sue, you may be eligible for compensation for medical bills, lost wages, and pain and suffering. In the US, traffic accidents in 2018 resulted in about $55 billion in damages for lost wages and medical expenses. According to the Insurance Information Institute reports, the average claim for bodily injury in 2020 after an auto accident was about $20,000. The payout for property damage was around $5,000.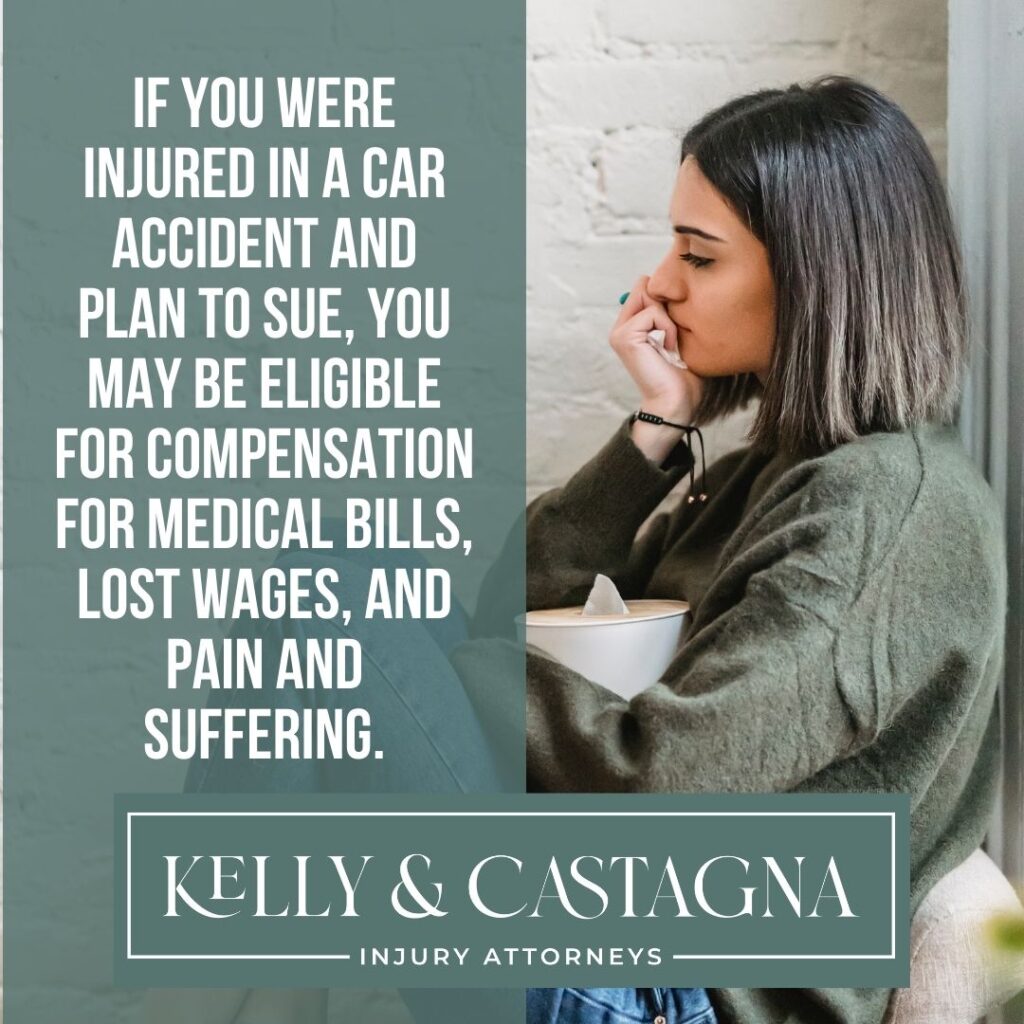 The settlement amount will depend on a variety of factors
The settlement amount for your car accident claim will depend on a variety of factors, including the severity of the injuries and the value of your car. You can use an online tool like Nolo's Car Accident Settlement Calculator to get an idea of how much you might expect to receive if you were involved in an accident. 
It will ask for information about the extent of your injuries, how long it took for them to heal, and whether there was any permanent damage or scarring from those injuries. Although this is a useful tool, there are many other things that will be considered for a car accident settlement. The car accident lawyers Normal Illinois at Kelly & Castagna will thoroughly evaluate your case and get you the settlement you deserve.
A car accident lawyers Normal Illinois will help negotiate a fair settlement
The amount of compensation for a car accident will depend on the severity of your injuries and other damages. At Kelly & Castagna, our legal team has an in-depth understanding of insurance companies. We have negotiated just settlements for many clients because we know the tactics they will take to try and avoid paying and we can thwart those efforts.
It is important that you contact experienced car accident lawyers Normal Illinois right away, so they can help guide you through this process as well as negotiate with the insurance companies on your behalf. You have already suffered from the accident. Now you want and need to move forward and our legal team is here to help.